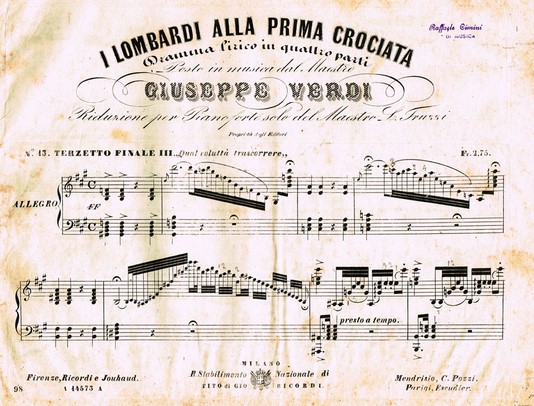 Director: James Levine
Interpretes:
Luciano Pavarotti (Oronte)
Paul Plishka (Pagano)
Lauren Flanigan (Giselda)
Bruno Beccaria (Arvino)
Inma Egido (Viclinda)
Comentarios
Metropolitan Opera House.January 15, 1994 Matinee Broadcast
Complete cast:
Giselda……………..Lauren Flanigan
Oronte………………Luciano Pavarotti
Arvino………………Bruno Beccaria [Last performance]
Pagano………………Paul Plishka
Viclinda…………….Inma Egido [Last performance]
Sofia……………….Jane Shaulis
Pirro……………….Hao Jiang Tian
Acciano……………..Jeffrey Wells
Prior……………….Charles Anthony
Violin solo………….Raymond Gniewek
Lauren Flanigan has performed all over the world with the Metropolitan Opera, Teatro alla Scala, Glyndebourne, and New York City Opera. She made her Seattle Opera debut in 1991 as Donna Anna in Mozart's Don Giovanni, and returned for the Governess in Britten's Turn of the Screw and Violetta in Verdi's Traviata. In the past eleven years, she has sung eighty-five different operas, including five world premieres written for her. Last year, her recording of R. Strauss's Liebe der Danae was nominated for a GRAMMY Award, and Carnegie Hall commissioned composer Phillip Glass to write a symphony for her, Symphony No. 6, on a text by Allen Ginsberg. Flanigan has received the Betty Allen prize from New York City Opera, the Diva Award from Emmanuel Ungaro, an award from American Society of Composers, Authors and Publishers for her commitment to performing the works of living composers, and the Artist of the Year from the Center for Contemporary Opera. She is featured in the books Bad Behavior and The Irish Face. Flanigan was twice honored by Irish America Magazine as one of its "Top 100 Irish Americans" for her concert series Comfort Ye, which raises food and clothing New York's homeless.